Shopping Cart
Your Cart is Empty
There was an error with PayPal
Click here to try again
Thank you for your business!
You should be receiving an order confirmation from Paypal shortly.
Exit Shopping Cart
Tourism Related Equestrian Competitions Limited
I'm a paragraph. Click once to begin entering your own content. You can change my font, size, line height, color and more by highlighting part of me and selecting the options from the toolbar.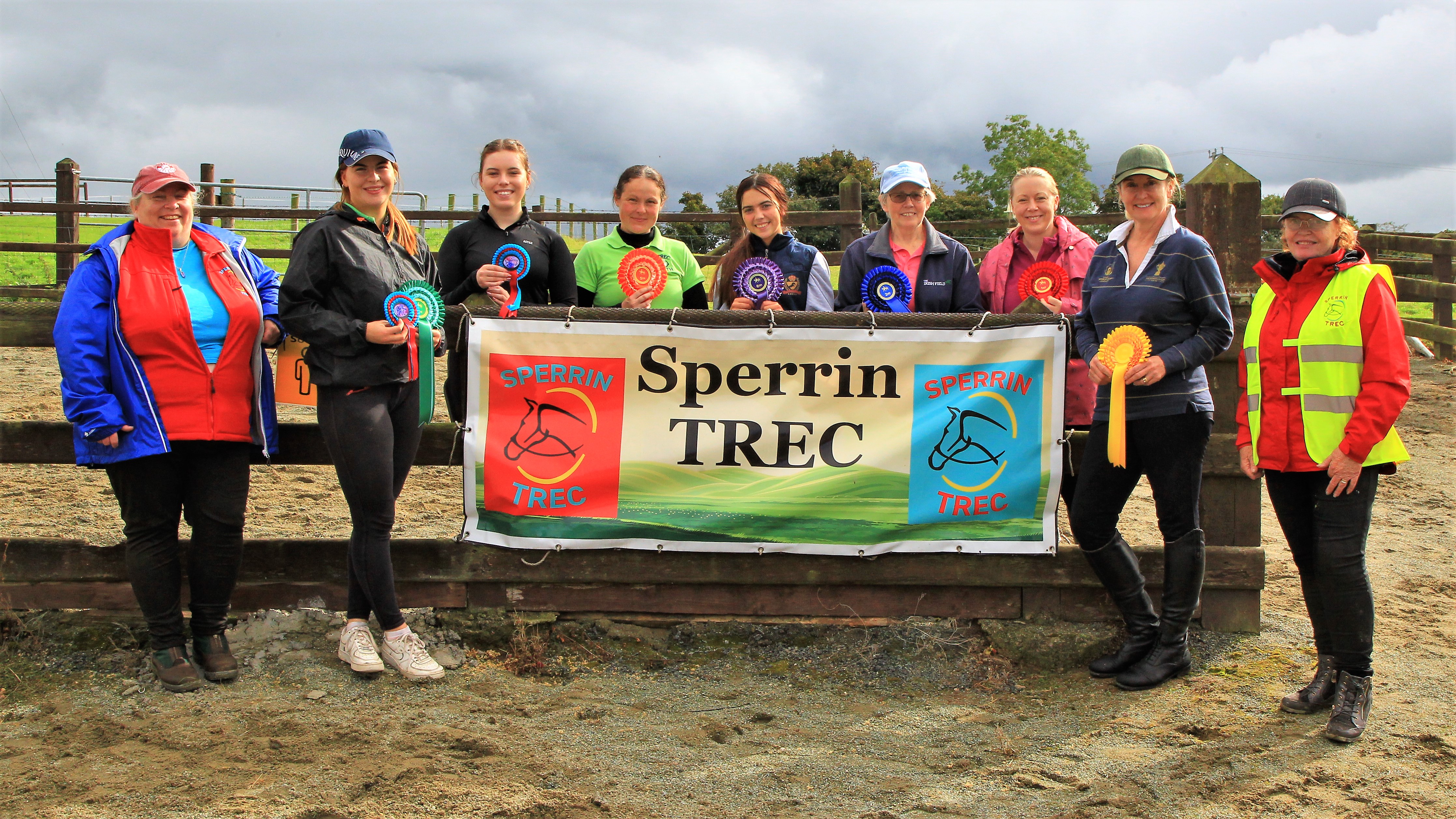 Photo   Alan Jarden     
Torrential rain challenged the resolve of riders and organisers alike the day and night before the 9th October Sperrin TREC event at Cindy's Yard, Desertmartin. Fortunately, the ground at the venue was well able to drain and the rain stopped just in time for the Open riders to go on their guided course walk. It was experienced Treccie pathfinder Jacinta Kincade on her own Shalimar Black Velvet who rode first and scored best on 1km PTV course set on a wide, grassy slope. Tully's Valley, ridden by up and coming Treccie Charlotte Moore, was a very close second and is improving all the time. All 10 riders completed the challenging course, which required good balance in hilly terrain and quick communication between horse and rider to achieve optimal scores. In the MA immediately following, Jude McConville, on Severnuale Ollie, achieved top MA score for the day. And Sperrin TREC awarded their Sperrin Spirit award to Charli Peak for the manner which she guided her own Lounthwaite Olive through the very first PTV course for either one of them. The afternoon brought Novice riders who made up in passion and enthusiasm what they lacked in numbers. By that time of day, the sun made an appearance and the shorter .5 Km PTV Course was again a success for all participants. They went from the arena to a slightly sloping field above in their Novice PTV course which included a wide variety of in-hand and ridden obstacles. The scores were very close indeed, but Wendy Saunderson and Clara found one more point on their round to give them the red rosette. A short practice and coaching section post competition showed vast improvement and huge future promise for Nicky Noonan and Kelly Harkness. Sperrin TREC would like to thank everyone for coming and we look forward to seeing everyone again. For the volunteers who make it possible and our venue owner and hostess Cindy Davison, our gratitude is real. And we have Alan Jarden photography to thank for catching the joy and fun of the day. THANKS!
Open PTV+MA
1st Jacinta Kincade,               Shalimar Black Velvet 140
2nd Charlotte Moore,             Tully's Valley 136
3rd Kate Higgins,                   Mr Finnegan 131
4th Jude McConville,             Severnuale Ollie 126
5th Jennifer Hamil,                 Breakfast at Tiffany's 110
6th Aoife Douglas,                  Townend Hot Toddy 108
7th Jayne Woodward,             Boycie 104
8th Mel Surgenor,                   Grease Lightning 88
9th Samantha McDermott,     Classic Imprint 79
10th Charli Peak,                    Lounthwaite Olive 58
Novice PTV
1st Wendy Saunderson,              Clara 122
2nd Kellie Harkness,                    Willbur 121
3rd Nicky Noonan,                       Ballybriest Tambo 112
Categories: Event Reviews & Results
/