Shopping Cart
Your Cart is Empty
There was an error with PayPal
Click here to try again
Thank you for your business!
You should be receiving an order confirmation from Paypal shortly.
Exit Shopping Cart
Tourism Related Equestrian Competitions Limited
I'm a paragraph. Click once to begin entering your own content. You can change my font, size, line height, color and more by highlighting part of me and selecting the options from the toolbar.
By Winfred Bastian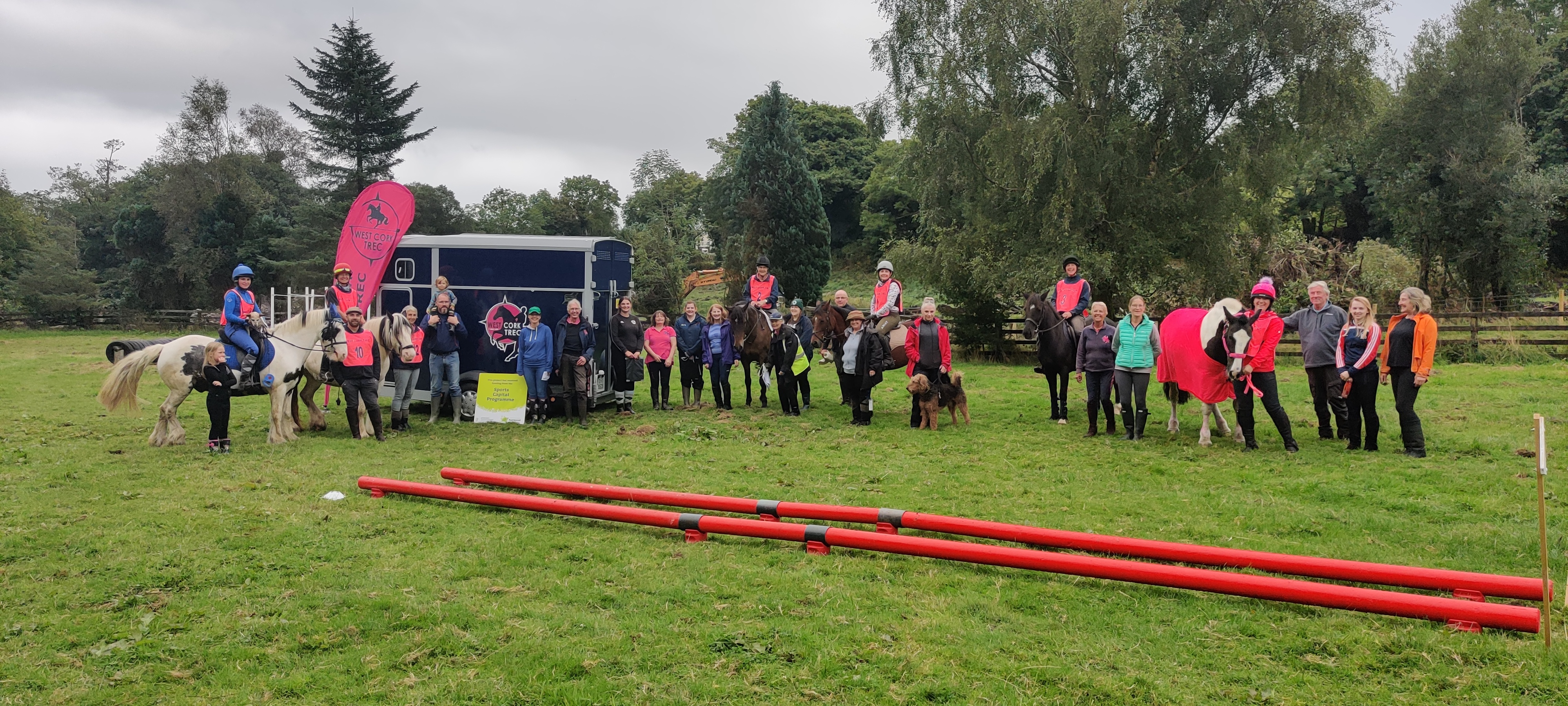 This competition was split over two weekends and two venues.
Sunday 12th MA/PTV-XL
20 riders entered day 1 of the event held near Glengariffe in West Cork . It was quite a challenge to set up two different PTV courses with 32 obstacles. With the help of West Cork TREC members and the Bastian family, we were able to open the course for a course walk on Saturday evening. It was also a challenge for our scorer, Jill Davies, to revamp the spreadsheets for the scoring.
It was raining when we started the first phase (MA), but fortunately after the first hour the rain stopped. In the end, it was a great success with many riders enjoying the technically demanding, but fluid PTV course, built by Chef d'Piste Bastian.
We cannot thank enough all the helpers, stewards, and judges without whom such an event would not be possible and to the Level 2 and 3 riders who had to judge in turns.
A special thank you to TD Gwen Bastian, who showed again how able she is to supervise the smooth running of such an event.
Sunday 19th POR
19 riders entered day 2 of the event. The day started in East Cork with sunshine and a blue sky as competitors got ready for the POR (Orienteering) phase. 3 riders from Leinster TREC and 1 rider from Kerry TREC had also entered the competition, as well as 6 newcomers, who rode their first POR competition.
The traceur Elaine Dolan Crowley has set up routes of 25.8 km for level 3, 17.2 km for level 2 and 11.8 km for level 1 and up to 7 checkpoints. The riders had to navigate on quiet country roads, and off-road sections over farmland and into glens with steep slopes. Level 2 and 3 riders also had to pass through parts of Glanmire village. The route included bearings and a grid reference section for level 3 riders. The riders enjoyed a beautiful day out in East Cork.
Thank you again to all the helpers, and to all the landowners, who gave permission to ride across their lands.
Congratulations to Elaine, who traced her first Level 3 route successfully and was on the day in full control of the competition and made me, the TD, "sit back" and watch.
Overall Result for the 3-phase event:
Level 3 Pairs
1st Frances Whooley on Brandy and Siobhan Wolf on Paris 647 Points
Level 2 Individual
1st Karen Vincencio on Fairytail Dreams 454 points.
Level 2 Pairs
1st Jenny Andrews on Winston & Martha Norton on Cornflake 981 points
2nd Judith Perrin on Kildarvan Cookie & Shirley Squire on Grace 916 points
3rd Mary Creedon on Silversprings Sia & Richard Creedon on Lucy Lucky on 628 points
Best MA Score ( out of 18 competitors -day 1)
Annie O Neill on Paddy 265 points
Best PTV Score (out of 20 competitors -day 1)
Annie O Neill on Paddy 265 points
Best POR Score (out of 19 competitors-day 2)
Jennie Andrews on Winston & Martha Norton on Cornflake 434 points
Top Scoring POR Level 1 pairs
Kaylee Murray on Kuro and Elaine Dwyer on Laura 428 points
Top Scoring Junior Rider PTV
Maia Lily de Zoeten on Coco 88 points.
Categories: Event Reviews & Results
/