Shopping Cart
Your Cart is Empty
There was an error with PayPal
Click here to try again
Thank you for your business!
You should be receiving an order confirmation from Paypal shortly.
Exit Shopping Cart
Tourism Related Equestrian Competitions Limited
The 12 photos which will feature in the 2018 TREC Ireland Calendar are on our Facebook page.
Thank you to everyone who submitted photos - there was a wonderful selection. Order forms will be available soon.
The entries for the 2017 National Championships close this coming Friday, 28th April. The schedule, including the entry form, is available on the Events Downloads page, payment must be received with the entry. 
Please be advised the schedule for this year's National Championships is now available to download from the Downloads/ Event Downloads section (top of the page, highlighted in pink).
The event is taking place on the 13th and 14th of May in Co. Leitrim.
The 2017 PTV and MA Championships are to be held on the 1st of October at Ballindenisk, Watergrass Hill, Cork. The event is being hosted by West Cork TREC, event secretary is Adele Connor ([email protected]), and the flyer is available to download and print in the downloads section (under Event Downloads, Upcoming events). 
This competition will include PTV and MA Championship classes, as well as D-TREC and Speed TREC.
LEINSTER TREC
LEAGUE RESULTS 2016
SATURDAY, NOVEMBER 26TH
TRI Equestrian MA/PTV League:
Novice - 1, Cocky (Minna Junnikkala); 2, Woodbine Benjamin (Margo Monaghan); 3, Haise (Marie Gallagher); 4, Polo (Madeleine Kelleher); 5, Dancer (Laura Filan); 6, Frere Jacque (Margaret Lynch).
Intermediate – 1, Foley (Maura Walsh); 2, General's Daughter (Liz Burbage); 3, Apache (Susanne O'Rourke); 4, Coolroe Gold (Diana O'Huid); 5, Surprise (Paula Donohoe); 6, Choral (Siobhan French).
Open – 1, Ser Kai (Niamh O'Huid); 2, Garnagree Duke (Vicky McMullen); 3, Zaristo (Sheila Fuller); 4, Callie (Lorna O'Neill); 5, Ross ML (Caroline Aragane).
The Field Equestrian Centre POR League:
Level 1 – 1, Woodbine Benjamin (Margo Monaghan); 2, Sali Mali (Trish Young); 3, Frere Jacque (Margaret Lynch); 4, Polo (Madeleine Kelleher); equal 5, Westside Joey (Louise Parkes) and Caspian (Kayleigh McCormack).
Level 2 – 1, Callie (Lorna O'Neill); equal 2, General's Daughter (Liz Burbage) and Garnagree Duke (Vicky McMullen); equal 4, Apache (Susanne O'Rourke) and Bronte (Natasha O'Rourke); 6, Coolroe Gold (Diana O'Huid).
Level 2X/3 – 1, Gallerus Boy (Rosemarie Bryson); equal 2, Robert (Ailbhe Gavin) and Zee (Tara Creighton); 4, Batman (Kirsten McCormack); equal 5, Quida (Laura Byrne) and Ser Kai (Niamh O'Huid).
Leinster TREC would like to express their sincere gratitude to the very generous sponsors, TRI Equestrian for sponsoring the PTV League 2016 and TheField EquestrianCentre for sponsoring the POR League 2016.
Boost Post
TREC Ireland is running another photo competition on Facebook! The top 12 most liked photos will all feature in a 2017 calendar, with all profits going towards hosting the European Young Rider Championships in Gurteen College next August. Please send us your photos (2 per person max) to either [email protected], or via PM on Facebook, ensuring high resolution for printing. The album will be published online on Sunday 20th October and voting will close on the 4th, with winning photos offiically announced at the AGM.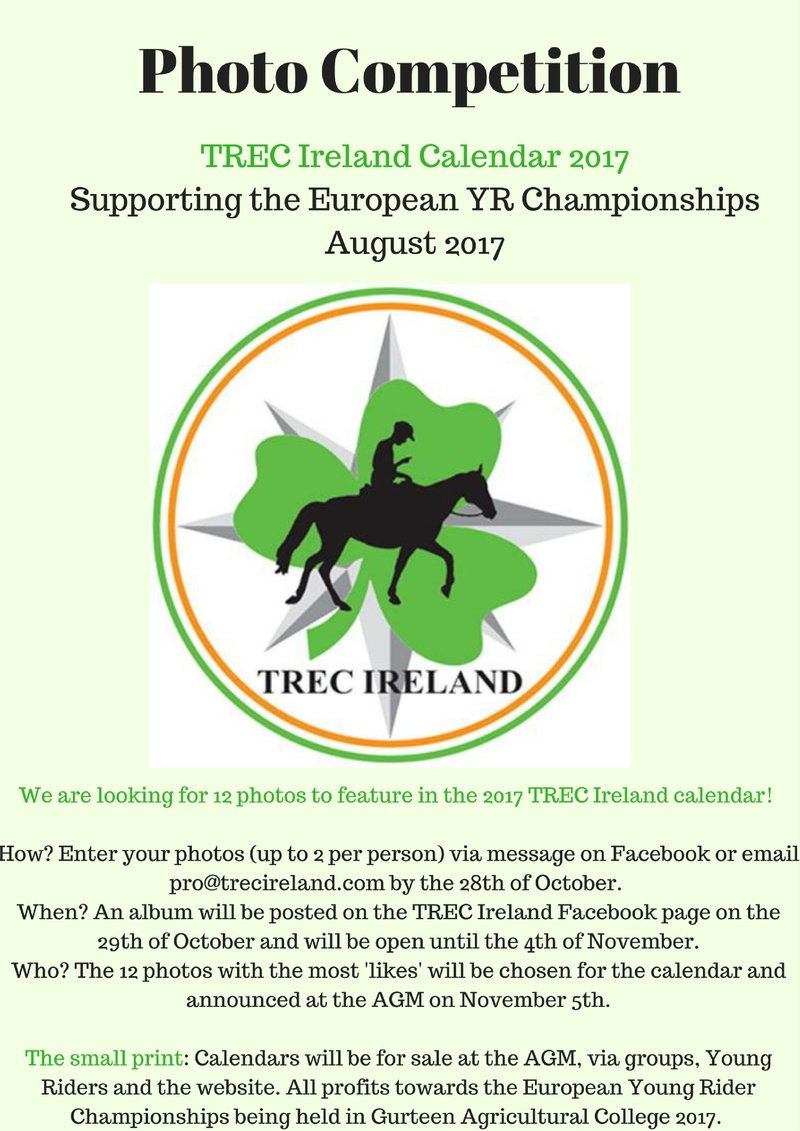 "Spirit of TREC" photo competition - Win TREC Ireland membership!
Enter your favourite photo that shows the spirit of TREC and what the sport is all about. The photo with the most 'likes' will win a 12 month membership! This membership doesn't run in the calendar year but for 12 months from when you win the competition (or when your current membership expires). Once a member you are exempt from paying the Temporary registration fee at group events, and receive a discount at National events.
How to enter:
Simply send us your photo via PM on Facebook, or to [email protected] by Sunday 11th September. We will then publish an album of all the photos, you can invite all your friends to 'like' your photo, the winner will be the photo with the most 'likes' and will be announced on the 18th September at the PTV and MA Championships (as well as online).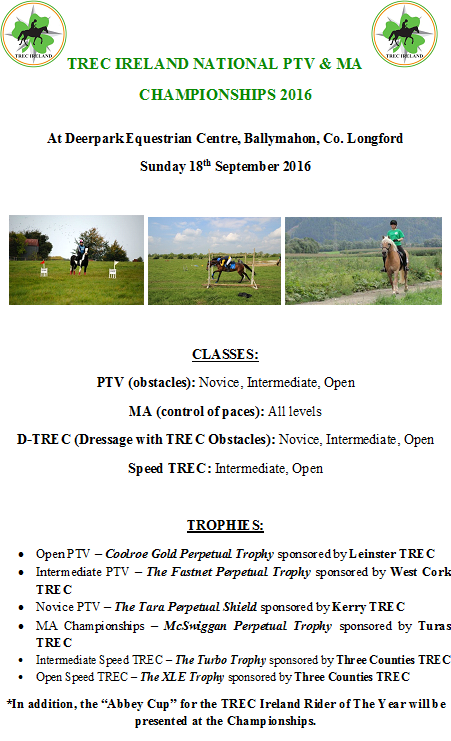 A reminder to enter the Open Championships, have a look at the amazing sponsors and classes for the weekend! Entries close this Friday.
Class 1 Gain Feeds Level 1 Pairs
Class 2 Quinns Level 1 Individual
Class 3 VBandz Level 2 Pairs
Class 4 Claire Molloy Ceramics Level 2 Individual
Class 5 The Field Equestrian Centre Level 3 Pairs
Class 6 Lady Chapel Stores Level 3 Individual
Class 7 Saoirse Saddlery Level 4
Class 8 GB Qualifier
Equine Therapies Ireland Special Class: Veteran
Brendan Doyle Special Class: Traditional Irish-bred Horse (private sponsorship)
Orla O'Reilly Memorial Shield Special Class: Best Newcomer (private sponsorship)
The full schedule is available on our website, in the Downloads/ Events section.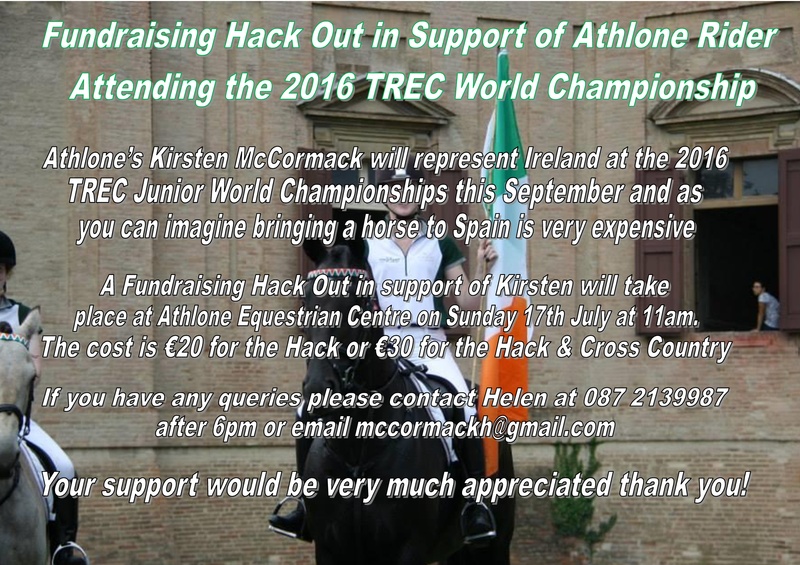 Midlands TREC are holding the first of their league dates at Kilkenny West, The PIgeons, Glasson, Co. Westmeath on the 8th of May 2016. The flyer with full information, and entry form are available in the downloads section under 'Event's. 

The poster for this year's National Championships being held by West Cork TREC, is now available to download in the Downloads section. 

0

/